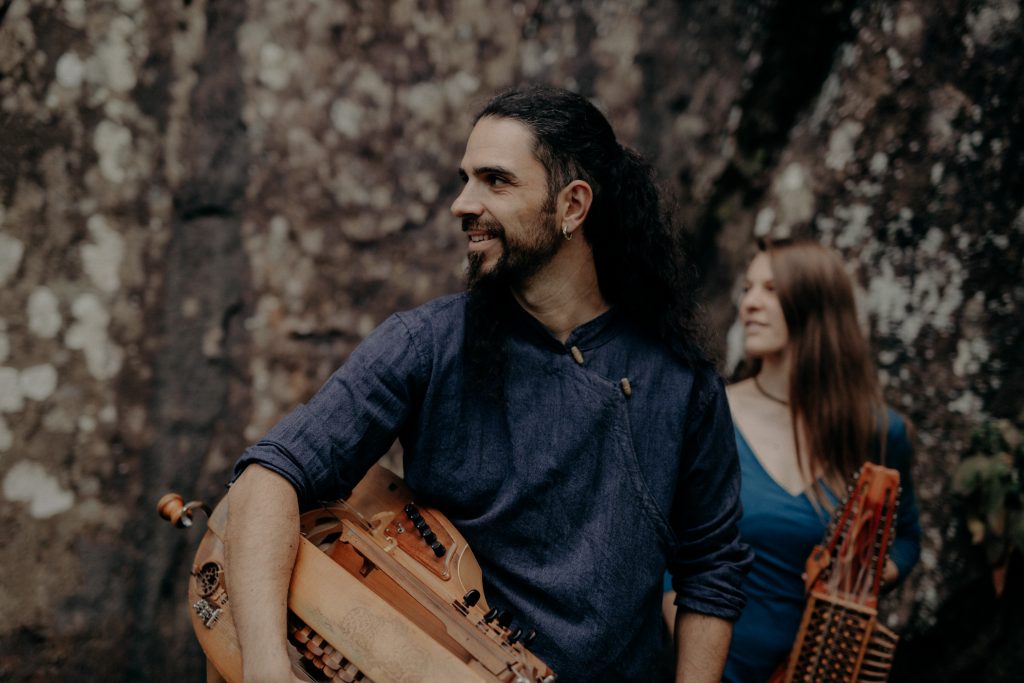 In 2015, Marguerite Lersteau and David Sévérac got to know each other musically through sessions where they played their two cousin instruments together: the nyckelharpa and the hurdy-gurdy.
Both coming from the world of traditional dance music, they exchange a repertoire of mazurkas, scottish, waltzes, bourrées, ronds de St Vincent, ...
They also quickly shared a common attraction to the music of the Mediterranean area and the Balkans, drawing on the same influences as the projects of the Chemirani family, the projects of the multi-instrumentalist Éfrén López and the numerous recordings of music from Turkey, Greece and Bulgaria.
Since 2017, Marguerite has been interested in studying Swedish and Norwegian dance music and has been taught by Eléonore Billy on several occasions.
In the spring of 2018, David and Marguerite expressed a desire to bring together their Scandinavian and Balkan influences in a single repertoire. Vóden was born and gave its first concert in the summer of the same year.
Today their aesthetics are expanded with the addition of sung pieces, and played in Bulgarian and Anatolian kavals.
Hurdy Gurdy, bulgarian and anatolian Kavals
Marguerite has been exploring music on her own since the age of 10, initially on vocals and folk guitar.
At the age of 18, she discovered traditional music by learning to play the violin and since 2014 she has been passionate about studying the nyckelharpa (Swedish bowed instrument from the 14th century).
Her interest lies in Scandinavian and Balkan repertoires, which she performs by singing and by playing the nyckelharpa.
She has trained with Maxime Chevrier, Eléonore Billy, Eléonore Fourniau, Henri Agnel, Efrén López, Veka Aler, Kelly Thoma, Isabelle Courroy, Chrysanthi Gkika, Engin Atabay, The ensemble Kongero, Mia Marin and Martin Coudroy.
She now plays in several other projects, including the group Soñj (Western early music and Eastern early and popular music) and the sextet Vilaine ( Polyphonic songs for dance in various regional languages of France )
Passionate about sound and music, David began his career by studying the piano. His path later crossed with that of traditional world music and he perfected his skills on the percussion instruments (darbouka, bendir, riqq...) and the hurdy-gurdy - his main instrument and thanks to which he was able to combine his rhythmic and melodic knowledge.
A versatile musician, he now plays the kaval (Balkan oblique flute) and teaches the hurdy-gurdy technique.
He improved his skills with musicians such as Grégory Jolivet, Romain Baudoin, Isabelle Courroy, Henri Agnel, Efrén López and participated in the collective Kreiz Breizh Akademi #5 (training dedicated to the study of modal music and directed by Erik Marchand). It was during this training that he had the opportunity to study in Egypt with master musicians.
He currently plays in the bands Soñj (Western early music and Eastern early and popular music), Nava (modal music from Brittany).