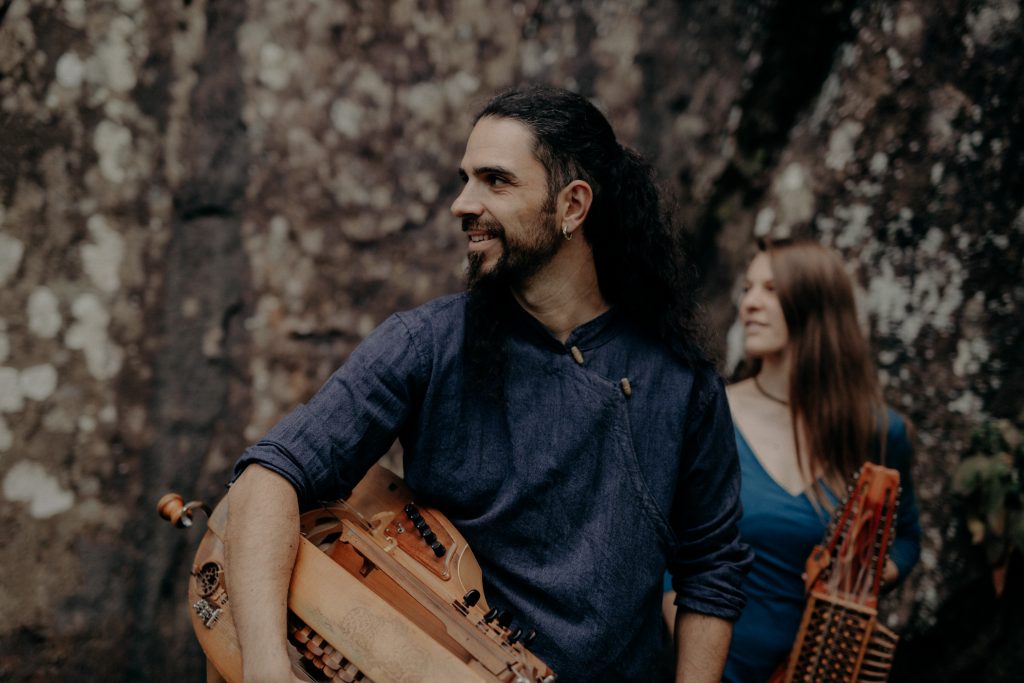 In 2015, Marguerite Lersteau and David Sévérac got to know each other musically through sessions where they played their two cousin instruments together: the nyckelharpa and the hurdy-gurdy.
Both coming from the world of traditional dance music, they exchange a repertoire of mazurkas, scottish, waltzes, bourrées, ronds de St Vincent, ...
They also quickly shared a common attraction to the music of the Mediterranean area and the Balkans, drawing on the same influences as the projects of the Chemirani family, the projects of the multi-instrumentalist Éfrén López and the numerous recordings of music from Turkey, Greece and Bulgaria.
Since 2017, Marguerite has been interested in studying Swedish and Norwegian dance music and has been taught by Eléonore Billy on several occasions.
In the spring of 2018, David and Marguerite expressed a desire to bring together their Scandinavian and Balkan influences in a single repertoire. Vóden was born and gave its first concert in the summer of the same year.
Today their aesthetics are expanded with the addition of sung pieces, and played in Bulgarian and Anatolian kavals.
Hurdy Gurdy, bulgarian and anatolian Kavals
Marguerite Lersteau was born in the heart of the Vendée bocage. She began singing at a very early age, learning by mimetism. She began playing folk guitar on her own when she turned 18 and develops guitar-vocal-harmonica compositions in the folk style of the 70s.
At the same time, she discovered traditional music through dancing and learning to play the fiddle. Moved by its unifying and popular character, she spent two years learning the traditional Vendée repertoire from Maxime Chevrier - by oral transmission - and frequented dance classes and folk dances in order to link music, rhythm and movement.
It was in 2012 that she tried out a nyckelharpa for the first time.( a bowed fiddle from 14th century). Won over by its sound and complex construction, she acquired her own instrument in 2014. It wasn't until 2016 that she took her first group course under the guidance of Éléonore Billy. Her passion for the nyckelharpa repertoire - the Swedish repertoire - really took off in 2017, when she took part in a more little group course led by Éléonore Billy. In 2018, she received a 10-day companionship grant from Éléonore, awarded by the FAMDT and Adami.
Today, she is committed to perfecting her style and training in Swedish dance and dance music repertoires, particularly through the teaching of the accordion player Martin Coudroy and - online- that of Swedish violinist Mia Marine.
Keenly aware of the traditional music of the Balkans, she has taken part in various master classes led by Henri Agnel, Efrén López, Isabelle Courroy, Kelly Thoma and Emmanuel Frin, studying the rhythms, scales, ornamentation and style of the repertoires of Turkey, Greece, Crete and Bulgaria. She was one of the musicians on stage during the concert by Kelly Thoma and her guests at the Eurofonik 2023 festival.
She was also introduced to the Turkish klasik kemençe with Chrysanthi Gkika, and the Turkish saz with Engin Atabay. But it's learning the Cretan lyra that's catching her attention today.
She has practised Turkish singing with Veka Aller and through classes led by Eléonore Fourniau, and has been introduced to Swedish singing with the Kongero vocal ensemble and the singer Anna Wikénius.
In her third year of learning Swedish on her own, she loves the music of languages in general and is very keen to analyse different accents and melismas found in the repertoires she sings.
She is an integral part of several other projects, including the quintet Soñj (Western early music and Eastern early and popular music) and the sextet Vilaine (Polyphonic songs for dance in various regional languages of France)
 David Sévérac grew up at the foot of the Montagne Noire, in the Tarn region of France, and began her musical journey at the age of 8, studying the piano.
In 2005, he discovered the world of traditional music by taking lessons in Middle Eastern percussion (derbouka, riqq and bendir).
At the same time, he attended Occitan balètis and discovered the hurdy-gurdy. In May 2008, he began to learn with Pascal Jaussaud, fascinated by the 3-in-1 nature of the instrument - melody, drone and rhythm. He went on to study with Pascal Lefeuvre, Gregory Jolivet and Romain Baudouin.
In 2014, he joined the Kreiz Breizh Akademi #5 collective, a course dedicated to the study of modal music and lead by Erik Marchand in Central Brittany. During this training, he benefited from the learning of numerous contributors and was introduced to Egyptian music by visiting the musicians of Egyptian Project (Sayed Eman, Salama Metwally, Ragab Sadek). There he discovered the kawala - the traditional Egyptian oblique flute.
The KBA#5 collective will then take to the stage with their show 5ed Round during two years.
Attracted by the sound of oblique flutes and wind instruments specific to the Balkans, he has been training regularly since 2018 to play the flûte
kaval. Mainly with Isabelle Courroy and through the Bulgarian and Anatolian repertoires.
In 2022, he received a companionship grant from FAMDT and Adami to study for ten days with Isabelle in private lessons. In 2023, he will also travel to Bulgaria for private kaval lessons with Kiril Belezhkov.
Since December 2021, he has also been studying the gaïda (Bulgarian bagpipes) with Emmanuel Frin - with whom he also regularly attends master classes on the Bulgarian style of playing - out of an interest in the instrument's timbre and to expand his knowledge of the Bulgarian repertoire. He also took private lessons in Bulgaria with Kostadin Atanasov in 2023.

Throughout his career, he has also honed his skills with musicians such as Eléonore Fourniau, Mehmet Salih Inan, Henri Agnel, Efrén López, Laurent Clouet, Bénédicte Jucquois and Kelly Thoma. He was also one of the musicians on stage at Kelly Thoma's concert and her guests at the Eurofonik 2023 festival.
He currently plays in the bands Soñj (Western early music and Eastern early and popular music), the trio Nava (modal music from Brittany).