Based in Brittany,in France, Vóden brings together Marguerite Lersteau on the nyckelharpa and David Sévérac on the hurdy-gurdy.
Their duo - sensitive and explosive - performs a traditional and composed repertoire, in line with their Scandinavian and Balkan influences, through two ancient and often little-known instruments, with added touches of song and kaval flute.

Sounding like one entity, sometimes like a thousand, the illusion is given by the melodies and chords that intertwine around all their strings, sometimes gently and sometimes with great energy.
From Sweden to Turkey, from polska to kopanitsa, they give us the opportunity to listen to their common attraction for the exploration of popular music and the search for rhythm.
Marguerite Lersteau: Nyckelharpa, singing
David Sévérac: Hurdy-Gurdy , kaval flute from Bulgaria and Anatolia.
12/09/23
Kling Klang is a traditional Finnish pastoral ballad translated and sung in swedish. The accompanying melody is a composition by Marguerite Lersteau, arranged by Vóden.
Video production by Rg d'Angers.
All our videos here
First album "Polskanitsa"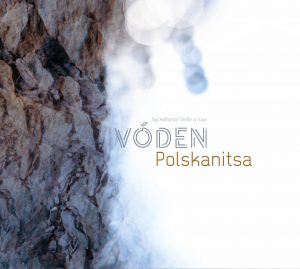 To order it with a payment by cheque, send us an email to voden[at]sublimebazar.com indicating your name, first name, postal address and the number of albums you would like. We will tell you how to send us your payment.
The album is 15€ + 3€ shipping costs (for France, 6€ for the rest of the world)
For online payment please visit our Bandcamp, you will also find the possibility of obtaining Polskanitsa  for download.
Listen to extracts from Polskanitsa   here
The fanzine La Voix des Sirènes offers us a nice review of the album Polskanitsa in their latest issue (No. 13, published in January 2022).
Since 2009, "la Voix des Sirènes" has published an annual eponymous fanzine accompanied by a CD. The fanzine, A5 format, around 70 pages, silk-screened cover, printed in 200 copies (130 since 2019) explores and questions our relationship to the world of music without limitation of genre or modus operandi, through reflections, interviews and portraits of artists, collectives, or independent.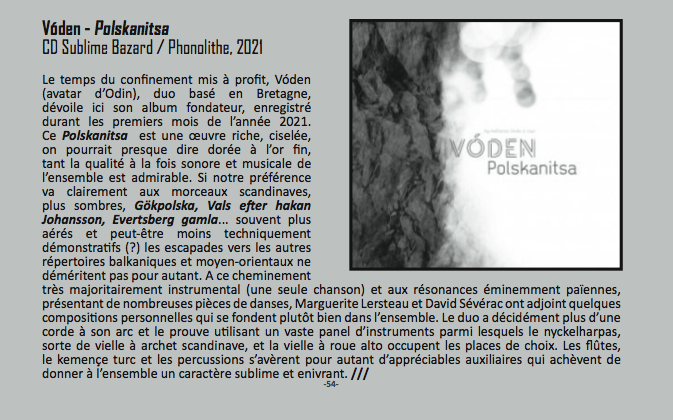 After a presentation of the album Polskanitsa in its broadcasts No. 1823 and 1825, the programme Folk à Lier - a traditional music magazine broadcast on Radio Libertaire - received Vóden for a live interview on Sunday 27 February 2022:
Vóden was a guest on Monday, December 13, 2021 at the microphone of the program Chemins de Terre on Radio Rennes and Radio Evasion: